STEVE PiDGEON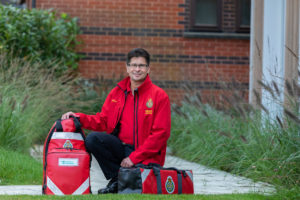 With 30 years' experience in the sport and leisure industry and voluntary sector with St John Ambulance and currently South East Coast Ambulance, Steve uses this wealth of knowledge to deliver a range of Health and Safety course. As a First Responder his First Aid courses benefit from real life experiences of basic life support and other medical emergencies. Steve is also a Trainer / Assessor for the Royal Lifesaving Society, enabling him to deliver their suite of pool based qualifications.
Although Health and Safety courses are not at the top of everyone's wish list, our courses are delivered in an enjoyable and engaging way, in a stress free, relaxed environment. As an alternative to coming to Cranleigh School for training, course can also be organised at your place of work.
Cranleigh School are pleased to offer the below training opportunities. They are held on campus using the classrooms and, if applicable, our 25m 4-lane indoor pool.
National Pool Lifeguard Qualification
The RLSS UK National Pool Lifeguard Qualification (NPLQ) is the most awarded lifeguard qualification in the United Kingdom. The NPLQ course duration is a minimum of 36 hours and course
content covers: The Lifeguard, Swimming Pool and Supervision. Intervention, Rescue and Emergency Action Plan. Cardiopulmonary Resuscitation, AED and First Aid
Excellent starting point for a career in the leisure industry.
Opportunity for career progression, as most leisure managers start off as Pool Lifeguards.
Varied working hours.
Work within a team.
The NPLQ is recognized around the world, so potential to work and travel.
Great way for students to fund studies.
Learn essential life skills, including First Aid and CPR
Age 16 years at date of assessment
Course limited to 12 applicants
Classroom and practical/pool based
Next course is to be confirmed, at Cranleigh School. GU6 8QQ. If you are interested in attending this course please could you email Steve Pidgeon stp@cranleigh.org for further details. The information is also on the RLSS Direct website (course 181592-5) https://www.rlssdirect.co.uk
Hours per day: 8.30am-5.00pm
Cost per applicant: £200.00
First Aid at Work
Course Duration: The course is delivered over a three day period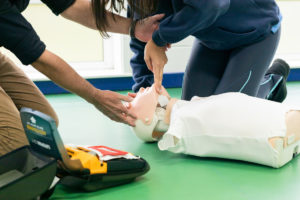 HSE compliance standards vary depending on the level of risk. For hazardous workplaces, the 3 Day First Aid at Work is required. The aim of this course is to train candidates to manage an accident scene in the workplace, effectively communicate and delegate until the Emergency services arrive. The course will teach the skills needed to deal with a casualty who is unconscious, not breathing, injured (as a result of an accident at work) and/or suffering from a medical condition. The course also includes what to do after an accident or incident at work, reporting procedures, disposal of clinical waste and ensuring that your first aid kit complies with the standards set by the HSE.
Understanding the role of a First Aider
The need for reporting accidents
Caring for an unconscious casualty
Performing CPR
Blood loss and shock
Burns and scalds
Disorders of the airway
Poisoning
Bone injuries
Major medical conditions (including the administration of aspirin and epinephrine)
Theory & Practical Elements Included.
Emergency First Aid at Work
Course Duration: 6 Hour Course usually delivered over one day
This is the UK's most popular first aid course and suitable for most low-risk workplaces. Emergency First Aid at Work provides delegates with an extensive first aid skillset so that they can identify incidents and manage them appropriately, whether the patient is conscious or unconscious. The course is designed to be beneficial to all employees, fulfilling recommendations underlined by the HSE and ensuring that all workplaces have a designated first aider to protect against accidents.
| | | |
| --- | --- | --- |
| First Aid Priorities | Managing Incidents | Basic Life Support |
| Examination of a Casualty | Unconsciousness | Control of Bleeding |
| Burns and Scalds | Regulations | First Aid Kits |
| Recording and Reporting | Theory & Practical Elements Included | |
Defibrillation Training Course Outline:
Course Duration: Half day – 3 hours
Our Automated External Defibrillation (AED) course lasts half a day (3 hours) and is suitable for delegates working in any sector. The training meets Resuscitation Council guidelines to ensure that defibrillators can be operated safely and legally. The AED course itself can be delivered either in-house or attended as an open course, although we recommend the in-house option which enables the training to be tailored to suit the delegates' workplace.
MANUAL HANDLING
Course Duration: Half day – 3 hours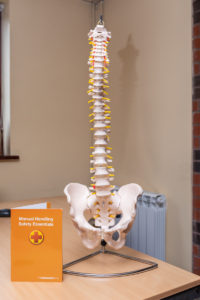 Incorrect manual handling is one of the most common causes of injury at work, accounting for over a third of all workplace injuries.
Manual handling training is about teaching your employees how to move heavy items safely and is a legal requirement in any situation where your staff are required to do any lifting, lowering, pulling or pushing that carries any level risk. Our three-hour certificated course provides sufficient understanding and knowledge of Manual Handling in the work place, the risks involved and the control measures available covering
| | | | |
| --- | --- | --- | --- |
| Relevant Legislation | Causes of Injuries | Assessing the risks | Principals of safe lifting |
Anaphylaxis and Epi-pen Training
Course Duration: Half day – 3 hours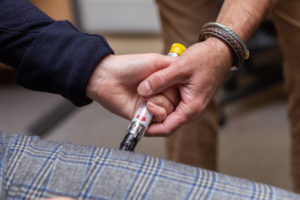 Anaphylactic Shock is a medical emergency that requires immediate medical assistance and treatment. The aims and objectives of the Anaphylaxis First Aid Course are to equip all attendees with the knowledge required in the prevention, recognition and treatment of severe allergic reactions including the use of auto injectors.