covid-19 update september 2021
Unfortunately we are unable to accept any new membership applications at this point in time. This decision will be under review in line with any other changes to our operating procedures. If you are interested in enquiring about membership in the future please do contact us at sportscentre@cranleighactivities.org and we will be happy to add you to our membership waiting list.
Golf Course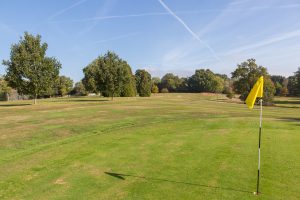 The Sports Centre offers a mature and well-managed, easy to walk, nine-hole Par 3 Golf Course, 1,536 yards long, which has been enjoyed by Members of all abilities for a great number of years.
Some of the course is flat, while in other areas it rises up to elevated tees and crosses a stream that forms a water hazard. The 8th hole is the longest at 218yards, with a water hazard on the right and the 5th is 105yards, with the green guarded by a bunker at the front and a stream at the back.
Golf Membership
Both Adult and Junior Memberships are available. However, children under 12 years of age must be accompanied by an adult. Children between 12 and 18 years of age may use the course unaccompanied by an adult, provided they have satisfied the Sports Centre Management that they are able to play to the required standard.
Golf Competitions (currently unavailable)
Since 1988, when the Sports Club formed, Members have been able to enter a variety of competitions including Stableford Medal, Greensomes and Fourballs seasonal competitions. Competitions are held in accordance with the rules and regulations of the standard Scratch Score and handicapping scheme of the Council of National Golf Unions. The competitions are mixed with men and ladies playing together.
The Sports Club works in association with the Cranleigh School Golf Society, who organise all the competitions. The Ladies section also runs a very popular, informal roll-up on a Saturday morning and both the Ladies and Men's sections organise a number of Away Days to other golf courses during the year. Both sections are very friendly, welcoming groups and enjoy the social side as well as a good game of golf.
Please contact the spokesperson, Chrissie Mann on 07771 884356 for further information.
The entry forms for competitions are displayed on the Golf noticeboard in the Sports Centre at least two weeks before each competition, and Members wishing to take part should fill in their names and then pay the entry fee on the day. There will be a prize-giving approximately every 4 months.
Members Access
The Golf Course has dual use, with the School using the course on a day-to-day basis during term time.
Please note: There is no access to Members during School competitions and practises when the course is closed for School use. All School Golf competitions are advertised in the Sports Centre reception along with Golf Course opening times.