Cranleigh Contemporary Music Academy 2019
CCMA is a summer academy designed to develop your skills as a musician and performer. Each day you'll select and learn tracks by your favourite bands. Mornings will include dedicated instrumental tuition on your instrument from expert tutors followed by afternoons of live performance workshops where you'll play with other musicians in a band to hone your stage skills. On the final day, you'll prepare a live show for your friends and family.
A unique and awesome music experience for young musicians. There's no better way to improve your skills, meet other musicians and play in a band in just five days! –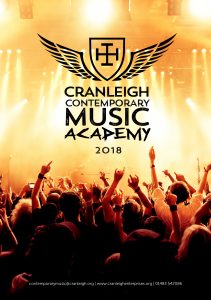 CCMA Summer Courses 2019
Week 1 (Ref M1):
Monday 5 – Friday 9 August 2019
Week 2 (Ref M2):
Monday 19 – Friday 23 August 2019
Age: 12-17 years
Price: £270 per person
(discounts available for siblings and booking both weeks)
Both the CCMA Information Booklet 2019 and the CCMA Booking Form 2019 (PDF and online) detailing course content and daily schedule will be available to download here in due course.
Contemporary Music Academy Medical Consent Form (pdf) downloadable here
FAQs
Do I need to have experience playing an instrument?
Yes, you need to be competent on your instrument but no experience of playing in a band is required.
What sort of equipment do you provide?
We only use the best. We supply guitar & bass amps, drum kits, keyboards, PAs and microphones – all the necessary gear to make it an easy and great sounding week. You can also bring your own. We have excellent facilities too, with two dedicated live performance spaces, 10 practice rooms, recording studio and green room.
Do you provide lunch and drinks each day?
You will need to bring a packed lunch each day. We provide a selection of soft drinks and water to keep you hydrated. On the final day, you'll have a barbecue provided before you gear up for the final show.
What sort of music will I play?
We love all kinds of bands and genres so you'll get to play in many different styles that appeal to you. You might learn a reggae track in the morning, followed up by learning some blues and funk in your band workshop. You choose the songs!
What should I bring?
This depends on your instrument. If you can bring your own then bring it! Leads, straps, drumsticks and accessories can be provided but you might have your own preference.
We'd love to see you in the summer and we're offering discounts if you book for more than one member of your family or book for both weeks.
For further information or to book please contact:
Cranleigh Contemporary Music Academy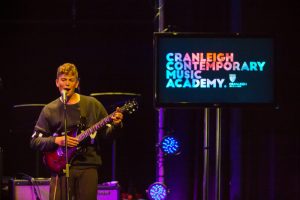 Enterprises Office
Cranleigh School
Horseshoe Lane
Cranleigh
Surrey GU68QQ
Tel: 01483 542086
Email: contemporarymusic@cranleigh.org