CCMA is a summer academy running intermediate and advanced music courses designed to develop your skills as a musician and performer. Each day pre-selected tracks by your favourite bands will be learnt and practised. Mornings will include dedicated instrumental tuition on your instrument from expert tutors followed by afternoons of live performance workshops where you'll play with other musicians in a band to hone your stage skills. On the final day, you'll prepare a live show for your friends and family.
A unique and awesome music experience for young musicians. There's no better way to improve your skills, meet other musicians and play in a band in just five days! –
CCMA 2020 will not be running this July. There are currently no plans to run the course in 2021. Thank you for your interest.
FAQs
Do I need to have experience playing an instrument?
Yes. For the intermediate level you need to be competent on your instrument but no experience of playing in a band is required. For the advanced level you are expected to have at least 5 years experience on your instrument and/or grade 5+. You should also have experience playing with a band.
Who else is going to be in my band?
Each band will consist of one vocalist, one drummer, two guitarists, one bassist, and one keyboard player. You will only focus on one instrument during the week, eg, if your primary instrument is guitar and you also sing, you would indicate this on the application form. This would mean you will be grouped with another guitarist, drummer, bassist, keyboard player and vocalist.
What sort of equipment do you provide?
We supply guitar & bass amps, drum kits, keyboards, PAs and microphones – all the necessary gear to make it an easy and great sounding week. You can also bring your own if required. We have excellent facilities too, with seven dedicated live performance spaces, 10 practice rooms and a professional recording studio.
Do you provide lunch and drinks each day?
You will need to bring a packed lunch and drink each day. We provide squash and water to keep you hydrated. On the final day, you'll have a barbecue provided before you gear up for the final show.
What sort of music will I play?
We love all kinds of artists, bands and genres so you'll get to play in different styles throughout the week. This is one of the most important aspects of developing as a musician. You will be provided with song choices well in advance of the course – we'll expect you to learn the basics of your part before you start on your first day.
What should I bring?
This depends on your instrument. If you can bring your own then bring it! Leads, straps, drumsticks and accessories can be provided but you might have your own preference. We have been investing in some fantastic new gear over the last five years – the Cranleigh Music School has a range of Fender, Blackstar, Vox and Mark Bass amps, Nord Keyboards, Mapex Drum Kits, Zildjan Cymbals, Bose PA systems and a lot more.
How do I book?
Please visit our website to complete the on-line application form and medical consent. Once submitted, please await email confirmation that there is space for your requested instrument. Once this is confirmed, payment needs to be made (details on the booking form) within 24hrs and upon receipt of payment a booking confirmation email will be sent.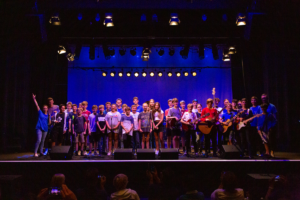 You can get in touch with our team via the contact details below.
Cranleigh Contemporary Music Academy
Merriman Music School
Cranleigh School
Horseshoe Lane
Cranleigh
Surrey GU6 8QQ
Tel: 01483 542009
Email: contemporarymusic@cranleighactivities.org