CCMA is a summer academy designed to develop your skills as a musician and performer. Each day pre-selected tracks by your favourite bands will be learnt and practised. Mornings will include dedicated instrumental tuition on your instrument from expert tutors followed by afternoons of live performance workshops where you'll play with other musicians in a band to hone your stage skills. On the final day, you'll prepare a live show for your friends and family.
A unique and awesome music experience for young musicians. There's no better way to improve your skills, meet other musicians and play in a band in just five days! –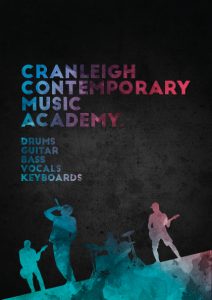 CCMA Summer Course 2020
Monday 27 – Friday 31 July 2020
Age: 12-17 years
Price: £tbc per person
(discounts available for siblings)
The Booking Form and Information booklet links below will be updated shortly when bookings for our 2020 course open.
New in 2019 and going forwards
Two courses will run simultaneously. When you apply you will be allocated to either our intermediate group or the advanced group (equivalent to Grade 5+)*. You will also be asked to select a preference of music genre to help us group you with similar musicians in a band. Both of these steps will determine the song choices you will prepare in advance, allowing you to really concentrate on how you interact with your band and your on-stage performance.
Thanks to recent feedback, we are offering every group the opportunity to professionally record one of their songs from the week.
*If you have previously attended our courses the tutors will confirm the most suitable group upon application. If you are new to the academy we will invite you to come in to meet us or send a video demonstration of your musicianship.

FAQs
Do I need to have experience playing an instrument?
Yes, you need to be competent on your primary instrument but no experience of playing in a band is required.
What sort of equipment do you provide?
We supply guitar & bass amps, drum kits, keyboards, PAs and microphones – all the necessary gear to make it an easy and great sounding week. You can also bring your own if required. We have excellent facilities too, with three dedicated live performance spaces, 10 practice rooms, recording studio and green room.
Do you provide lunch and drinks each day?
You will need to bring a packed lunch each day. We provide squash and water to keep you hydrated. On the final day, you'll have a barbecue provided before you gear up for the final show.
What sort of music will I play?
We love all kinds of bands and genres so you'll get to play in any different style that appeals to you. You will be provided with song choices well in advance of the course – we'll expect you to learn the basics of your part before you start on your first day.
What should I bring?
This depends on your instrument. If you can bring your own then bring it! Leads, straps, drumsticks and accessories can be provided but you might have your own preference. We have been investing in some fantastic new gear over the last five years – the Cranleigh Music School has a range of Blackstar, Vox and Mark Bass amps, Nord Keyboards, Mapex Drum Kits, Zildjan Cymbals, Bose PA systems and a lot more.
How do I book?
Please complete the on-line application form and medical consent. Once received, together with payment (details on the booking form), a booking confirmation e-mail will be sent.
The Booking Form and Information booklet links below will be updated shortly when bookings for our 2020 course open.

You can get in touch with our team via the contact details below.
Cranleigh Contemporary Music Academy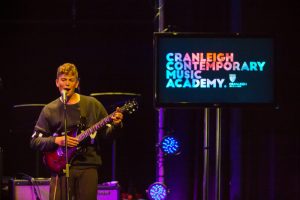 Merriman Music School
Cranleigh School
Horseshoe Lane
Cranleigh
Surrey GU6 8QQ
Tel: 01483 542009
Email: contemporarymusic@cranleighactivities.org